MCC-SERVICE

Artist-Suche
Beiträge über inter- natinale Künstler



Intern. News
News aus der inter-
nationalen Szene



Star-Konzerte
Live in Mailand, München, Innsbruck, Verona, Südtirol, Wien



Gewinnspiele
Tickets, CD´s uvm. zu gewinnen.

Beachten ...
Sie unsere Google-
Anzeigen. Wir finanzieren diese Plattform teilweise damit.
CHRIS NORMAN
Kurzbiografie, Album, Info, Tour ...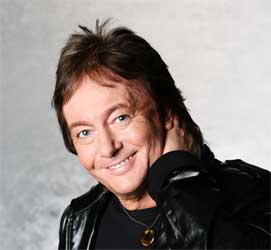 Chris Norman

Smokie und mehr
Keine Frage, mit seiner Band Smokie gehörte Chris Norman in den 70er-Jahren neben Abba und Boney M. zu den erfolgreichsten und populärsten Musikgruppen weltweit. Mit "If You Think You Know How To Love Me" schafften die fünf Nordengländer 1975 den Durchbruch und Songs wie "Living next door to Alice" oder "Lay Back In The Arms Of Someone" machten Smokie unsterblich. Mitte der 80er stieg Norman bei Smokie aus und wandelt seitdem auf erfolgreichen Solo-Pfaden. Mit dem Titel "Midnight Lady" landete er europaweit einen Mega-Hit und durfte sich beispielsweise in Deutschland ganze sechs Wochen lang an der Chartspitze suhlen. Und wie viele andere Ur-Helden profitiert Chris Norman auch heute noch von den Hits aus seiner Anfangszeit. Dabei hilft dem Sänger und Gitarristen natürlich auch seine charakteristische und unvergleichbare Stimme ohne die selbst Smokie-Titel nur lauwarme Suppe sind. Gerade deshalb wird Chris Norman heute weit höher gehandelt als der restliche verbliebene Trupp von Smokie. Chris Norman ist lebende Musikgeschichte zum Anfassen, Abfeiern und Mitsingen.
Kürzlich ist sein neues Album erschienen. Das bei Edel erschienene Doppelalbum trägt den Titel "Chris Norman, The Hits! From His Smokie And Solo Years". Es bietet Neuaufnahmen seiner größten Hits und fünf bisher unveröffentlichte Nummern. Sie demonstrieren eindrucksvoll die musikalische Entwicklung dieses Ausnahmetalents. Zu Haben ist das Produkt auch als Luxus-Version mit Live-DVD. Vorgestellt wird das Ganze auch im Rahmen einer größeren Tournee. Zusammen mit seiner Band spielt Chris Norman ab Anfang März insgesamt 33 Konzerte in Russland, Deutschland und der Slowakei. Gerüchten zufolge soll Chris Norman heuer im Herbst erstmals auch in Südtirol ein Gastspiel geben.
News: (vom 18.6.09) Chris Norman kommt erstmals nach Südtirol. Mit seiner Band gastiert er im Rahmen des 13. Steinegg-Live-Festivals im Kulturhaus von Steinegg bei Bozen. Datum ist der 24. Oktober 2009. Karten gibt es in Kürze bei allen Raiffeisenkassen in Südtirol.

aktuelles Album: The Hits! From His Smokie And Solo Years
Veröffentlichung: 20. Februar 2009
Label: Edel
Vertrieb: Edel
Typ: als Doppel-CD oder Doppel-CD mit DVD
Jetzt zu Gewinnen auf unserer Gewinnspielseite: Doppelalbum+DVD-Paket
Tracks:
Disc 1

Disc 2


01.
02.
03.
04.
05.
06.
07.
08.
09.
10.
11.
12.
13.
14.
15.
16.

SMOKIE YEARS
IF YOU THINK YOU KNOW HOW TO LOVE ME
DON'T PLAY YOUR ROCK 'N' ROLL TO ME
SOMETHING'S BEEN MAKING ME BLUE
WILD ANGELS
I'LL MEET YOU AT MIDNIGHT
LIVING NEXT DOOR TO ALICE
LAY BACK IN THE ARMS OF SOMEONE
IT'S YOUR LIFE
NEEDLES AND PINS
FOR A FEW DOLLARS MORE
OH CAROL
MEXICAN GIRL
STUMBLIN' IN
BABE IT'S UP TO YOU
SAN FRANCISCO BAY
TAKE GOOD CARE OF MY BABY


01.
02.
03.
04.
05.
06.
07.
08.
09.
10.
11.
12.
13.
14.
15.
16.
17.
18.

SOLO HITS
LOVE IS A BATTLEFIELD
MIDNIGHT LADY
SOME HEARTS ARE DIAMONDS
NO ARMS CAN EVER HOLD YOU
SARAH
THE NIGHT HAS TURNED COLD
THE GROWING YEARS
GOODBYE LADY BLUE
RED HOT SCREAMING LOVE
LOST IN FLIGHT
AMAZING
THE FIRST CUT IS THE DEEPEST
MILLION MILES TO NOWHERE
SECOND TIME AROUND
GOT IT ALL
CALL ON ME
INSIDE OUT
ENDLESS NIGHT
Weblinks:
Seite des Konzertveranstalters von Steinegg Live (de)
Offizielle Webseite (de)
Offizielle Webseite (en)
Seite auf Wikipedia (de)
Tour / Konzerte / Tickets:
3 Mar, 2009

L

Chris Norman
Gorky Theater, Rostov-On-Don [Russia]

4 Mar, 2009

L

Chris Norman
Central Concert Hall, Krasnodar [Russia]

5 Mar, 2009

L

Chris Norman
City Cirkus, Voronezh [Russia]

7 Mar, 2009

L

Chris Norman
Moskau [Russia]

8 Mar, 2009

L

Chris Norman
Concert Hall Cosmos, Ekaterinenburg [Russia]

24 Mar, 2009

L

Chris Norman - The Hits! - live with Band 2009
Stadthalle, Aurich [Germany]
> order tickets [eventim.de | only in German]

25 Mar, 2009

L

Chris Norman - The Hits! - live with Band 2009
Stadthalle, Rostock [Germany]
> order tickets [eventim.de | only in German]

27 Mar, 2009

L

Chris Norman - The Hits! - live with Band 2009
Die Glocke, Bremen [Germany]
> order tickets [eventim.de | only in German]

28 Mar, 2009

L

Chris Norman - The Hits! - live with Band 2009
STADEUM, Stade [Germany]
> order tickets [eventim.de | only in German]

29 Mar, 2009

L

Chris Norman - The Hits! - live with Band 2009
Philipshalle, Düsseldorf [Germany]
> order tickets [eventim.de | only in German]

30 Mar, 2009

L

Chris Norman - The Hits! - live with Band 2009
Rosengarten, Mannheim [Germany]
> order tickets [eventim.de | only in German]

1 Apr, 2009

L

Chris Norman - The Hits! - live with Band 2009
Konzerthaus, Karlsruhe [Germany]
> order tickets [eventim.de | only in German]

2 Apr, 2009

L

Chris Norman - The Hits! - live with Band 2009
Meistersingerhalle, Nürnberg [Germany]
> order tickets [eventim.de | only in German]

3 Apr, 2009

L

Chris Norman - The Hits! - live with Band 2009
Tivoli, Freiberg [Germany]
> order tickets [eventim.de | only in German]

6 Apr, 2009

L

Chris Norman - The Hits! - live with Band 2009
Deutsches Theater, Munich [Germany]
> jetzt Tickets buchen [eventim.de | only in German]

7 Apr, 2009

L

Chris Norman - The Hits! - live with Band 2009
Messe, Erfurt [Germany]
> order tickets [eventim.de | only in German]

8 Apr, 2009

L

Chris Norman - The Hits! - live with Band 2009
Georg-Friedrich-Händel-Halle, Halle / Saale [Germany]
> order tickets [eventim.de | only in German]

20 Apr, 2009

L

Chris Norman - The Hits! - live with Band 2009
Kulturpalast, Dresden [Germany]
> order tickets [eventim.de | only in German]

21 Apr, 2009

L

Chris Norman - The Hits! - live with Band 2009
Stadthalle, Cottbus [Germany]
> order tickets [eventim.de | only in German]

22 Apr, 2009

L

Chris Norman - The Hits! - live with Band 2009
Stadthalle, Zwickau [Germany]
> order tickets [eventim.de | only in German]

23 Apr, 2009

L

Chris Norman - The Hits! - live with Band 2009
Stadthalle, Magdeburg [Germany]
> order tickets [eventim.de | only in German]

25 Apr, 2009

L

Chris Norman - The Hits! - live with Band 2009
Stadthalle, Chemnitz [Germany]
> order tickets [eventim.de | only in German]

26 Apr, 2009

L

Chris Norman - The Hits! - live with Band 2009
Alte Oper, Frankfurt [Germany]
> order tickets [eventim.de | only in German]

27 Apr, 2009

L

Chris Norman - The Hits! - live with Band 2009
Theater im Hafen, Hamburg [Germany]
> order tickets [eventim.de | only in German]

28 Apr, 2009

L

Chris Norman - The Hits! - live with Band 2009
Tempodrom, Berlin [Germany]
> order tickets [eventim.de | only in German]

29 Apr, 2009

L

Chris Norman - The Hits! - live with Band 2009
Gewandhaus, Leipzig [Germany]
> order tickets [eventim.de | only in German]

1 May, 2009

L

Chris Norman - The Hits! - live with Band 2009
Theater am Aegi, Hannover [Germany]
> order tickets [eventim.de | only in German]

2 May, 2009

L

Chris Norman - The Hits! - live with Band 2009
Westfalenhalle 3 A, Dortmund [Germany]
> order tickets [eventim.de | only in German]

3 May, 2009

L

Chris Norman - The Hits! - live with Band 2009
Schwabenlandhalle, Stuttgart-Fellbach [Germany]
> order tickets [eventim.de | only in German]

5 May, 2009

L

Chris Norman - The Hits! - live with Band 2009
Kultur- and Kongreßzentrum, Gera [Germany]
> order tickets [eventim.de | only in German]

24 Jul, 2009

L

Chris Norman - The Hits! - live with Band 2009
Freilichtbühne Eisenhüttenstadt, Eisenhüttenstadt [Germany]
> order tickets [eventim.de | only in German]

25 Jul, 2009

L

Chris Norman - The Hits! - live with Band 2009
Freilichtbühne Rugard, Bergen / Rügen [Germany]
> order tickets [eventim.de | only in German]

29 Aug, 2009

L

Chris Norman
Steel Arena, Kosice [Slovakia]

24 Oct, 2009

L

Chris Norman - The Hits! live with Band 2009
Kulturhaus Steinegg (Bolzano) Italy

siehe eventuell auch: Internationale Konzerttermine
oder offizielle Webseite des Künstlers
Bildnachweis: Chris Norman - Presse / Text: © Klemens Riegler - Feb. 2009
---
2000- Music & Cultur Club, 39100 Bozen - Südtirol,
Rentsch - Tel. +0039 0471 979442, Telefax 981852
ANZEIGEN



Prolyte
Distributore per Italia

INDIANA LINE
Rivenditore Alto Adige